Call Centre

If enabled in the Telephone system user profile, Call Centre features are visible and can be controlled from the Tray Menu, AppBar or Call Toolbar.
NOTE: Call Centre features always requires One Integrate Cara UNITE user license.
Tray Menu / AppBar Call Centre settings
Select Queue membership and Agent availability status: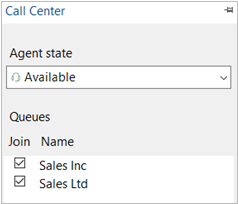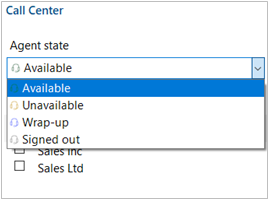 Agent states are configurable in Telephone system Call Centre settings.
Agent Status in Presence Window
A user can see the status of Call Center Agents in the Presence Window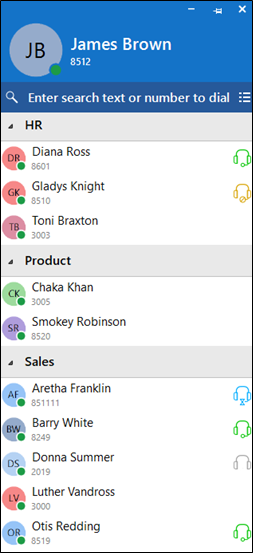 Call Toolbar Call Centre settings
Queue Membership and Queue Information
The Call Toolbar displays the following Call Centre queue information:
Which queue(s) the agent is assigned to (indicated by the check box).
Number of agents configured within the queue.
Number of agents currently available to take a call.
Expected wait time for callers currently in the queue.

Agents may join or leave a queue using the check box on the left-hand side.
NOTE: Call queue statistics are provided directly from the Telephone system platform.
Agent Availability
Select agent availability status: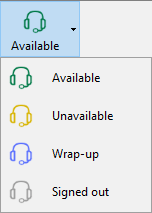 Agent states are configurable in Telephone system Call Centre settings.
Assistance
Select "Assistance" while in a call to escalate to a supervisor defined in the telephone system.

NOTE: This action simply sends the #83 feature code.
Call Outcome (Disposition)
An Outcome code can be set while the agent is in a call from a Call Centre queue or in "Wrap-up" status.
The Outcome codes are configurable in the telephone system. Example shown below: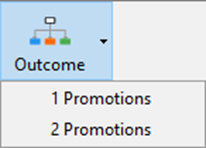 Outgoing Number
Allows the agent to select the outgoing DNIS presented to the called party. This can be set manually by selecting a number from a drop-down list from the toolbar: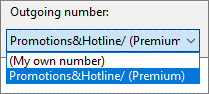 Refer to "Automatic Number Presentation" for further details.
NOTE: The Outgoing Number feature requires the Telephone system Premium Call Centre DNIS service.
Features available by Call Centre type
Feature

/

Call Centre type
Basic
Standard
Premium
Join queue
Yes
Yes
Yes
Availability
No
Yes
Yes
Queue stats
No
Yes
Yes
Assistance
No
Yes
Yes
Disposition/Outcome codes
No
No
Yes
Outgoing Number
No
No
Yes
Feature visibility
Toolbar features availability is dependant upon:
1. The One Integrate Cara user license type assigned – Call Centre features always require UNITE user license.
2. The Telephone system Call Centre services assigned to the user.
3. The queue type associated with the active call.