Tray menu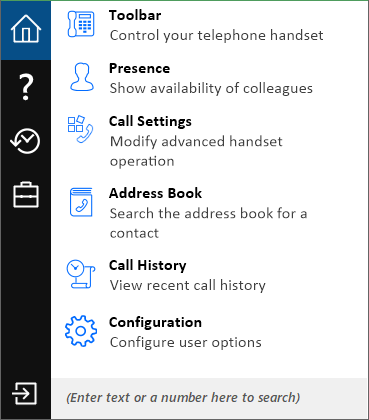 The tray menu is accessed by right-clicking on the One Integrate icon which is a green square (or red if you're on a call or yellow if a call is on hold).



Note:In Windows 7 and above, some tray icons become hidden and expressly have to be shown. These settings are stored in the "Notification Area Icons" part of the Windows Control Panel.
At the bottom of the tray menu is a text box where users can enter text or numbers to search for in all of the integrated applications.
Results are displayed directly in the tray menu as text is typed into the text box. Calls can be made to any contacts that are found by clicking on the number displayed in the results.
Clicking on the icons down the left-hand side of the tray menu displays the various sections of the tray menu.
Menu

From this section, users can access the other parts of One Integrate by clicking on the appropriate option.
Related topic:Address Book window
Related topic:Call History window
Related topic:Telephony settings
Help

Click this option to open the software's online help in your default internet browser. Double-click on the option you would like to view.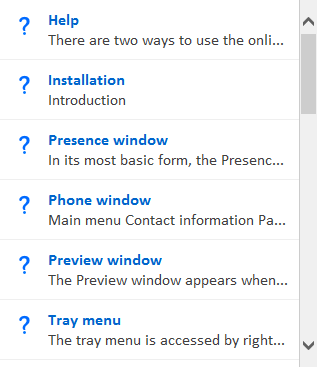 When this section of the menu is being viewed, the search text box is used to find words or phrases within the online help.

Recent calls

Quickly see recently dialed numbers, and click to redial them.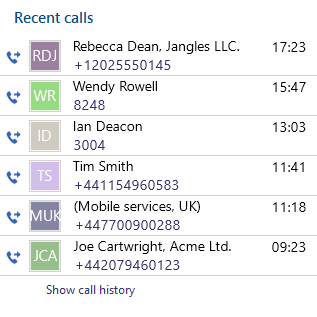 CommPilot Express

The CommPilot* option allows you to quickly select your preferred CommPilot Express profile.
These can also be linked to your Microsoft Outlook calendar so that the status of your Microsoft Outlook calendar will set your CommPilot Express profile. To link these you must set your Appointment setting in your Microsoft Outlook integration to "(Default)". Your Microsoft Outlook calendar availability will match to your CommPilot Express profiles as follows:
| CommPilot Express | Microsoft Outlook calendar availability |
| --- | --- |
| Available: In Office | Free |
| Busy | Busy |
| Busy | Tentative |
| Available: Out of Office | Working elsewhere |
* The CommPilot state will only change for users subscribing to CommPilot Express.
Exit

Use this to unload the software.